Climbing Club
Method Climbing conducts the Climbing Club class every Saturday from 10:00am to 11:30am. It is designed for children new to climbing who are up for a challenge to push themselves beyond their physical and mental limits. Participants require little to no experience in climbing.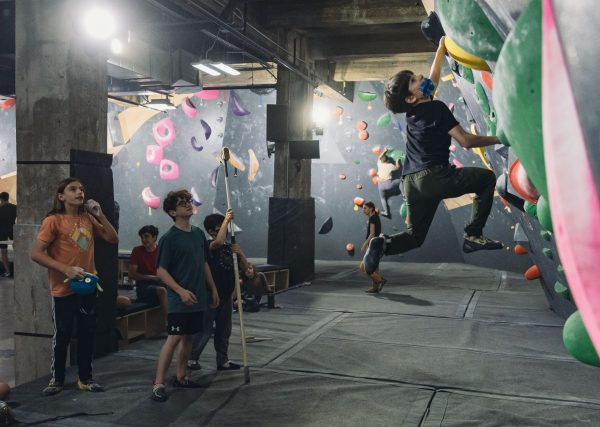 When: Saturdays 10:00am to 11:30am
Price: $50 Drop in or Punch Pass (buy 4 and get 1 free)
Recommended Ages: 7-12
Our Climbing Club Class teaches children rock climbing techniques, positive psychology and so much more. The class is conducted by friendly and knowledgeable trainers who curate unique lesson plans to cater to the individual abilities of students.

At the end of the class, students can look forward to improving their physical and mental health while enhancing their strength, focus, balance, confidence, and problem-solving skills.

In Climbing Club, children are introduced to various facets of the sport, including top roping and bouldering, among other exciting activities. The curriculum is designed to maintain a low child-to-teacher ratio, ensuring personalized attention and guidance for each participant. With a maximum of ten students per session, the dedicated and experienced instructors focus on teaching proper climbing techniques, safety practices, and efficient movement strategies. This supportive learning environment allows children to hone their skills, gain confidence, and develop a strong foundation in the sport while receiving individualized coaching tailored to their unique needs and progress.
Advantages of Climbing Club
Climbing Club offers a plethora of benefits for children, fostering not only physical growth but also emotional and cognitive development. Through these classes, youngsters build strength, coordination, and flexibility, while simultaneously learning valuable life skills such as problem-solving, perseverance, and goal-setting. Climbing challenges help to bolster self-confidence, as kids overcome obstacles and reach new heights, literally and metaphorically. In addition, the social aspect of these classes fosters teamwork, communication, and camaraderie, as children cheer each other on and collaborate on climbing routes. Overall, this class provides a fun, engaging, and rewarding environment for children to grow and thrive.
Why Choose Climbing Club Class from Method Climbing?
People choose Method Climbing for their children's climbing classes due to the exceptional combination of highly trained instructors, a warm and welcoming environment, and a supportive atmosphere that nurtures growth and development. At Method Climbing, the experienced instructors go above and beyond to provide personalized guidance, ensuring that each child receives the necessary attention and encouragement to excel. The facility is designed to foster a sense of community and belonging, making both children and parents feel at ease and comfortable from the moment they walk through the doors. This supportive environment empowers children to overcome challenges, build self-confidence, and embrace the joy of climbing while creating lifelong memories and friendships.