Let's face it. Moms have a lot to juggle. Amid the chaos of work and school schedules, kids' activities, and keeping everyone dressed and fed, trying to squeeze in a workout can seem like a luxury you can't afford. Even if your gym offers a childcare service, many are just glorified TV-watching rooms, with no structured activities that engage kids. On top of that, wide age ranges mean that older children end up fending for themselves and getting bored while the care staff focuses attention and activities on the younger ages.
But you shouldn't have to feel guilty for working out. You shouldn't have to worry that building healthy habits into your own life comes at the expense of your kids.
If you feel like your workouts are a perfect recipe for mom guilt, we've got good news for you. It doesn't have to be that way.
Why Indoor Rock Climbing Is 100% Awesome for Kids (And Moms!)
Unlike mindless daycare activities, indoor rock climbing keeps kids engaged both physically and mentally. Because climbing uses every muscle group and requires mental focus, it's a great way to build healthy habits from the inside out. And it comes with a slew of other benefits as well. Here's what rock climbing can do for kids:
Develop Problem-Solving Skills – Climbing is a great way to hone problem-solving skills and overcome challenges. What's the best route to the top? What happens if you get stuck with no clear path forward? By allowing them to experiment and even fail in a safe place, indoor rock climbing teaches the essential skill of overcoming challenges by facing fear, not giving up, and learning to persevere.

Foster Cooperation – Climbers quickly develop a tribe of people who encourage each other and work together to reach new goals. Rocking climbing helps kids learn essential life skills like helping each other, cooperating for a common goal, and building trust.

Bring Families Together – Rock climbing can be an amazing family activity that your kids will remember for the rest of their lives. Spending quality time together, learning to cooperate toward a goal, and celebrating one another's achievements creates a special bond that will last for years to come.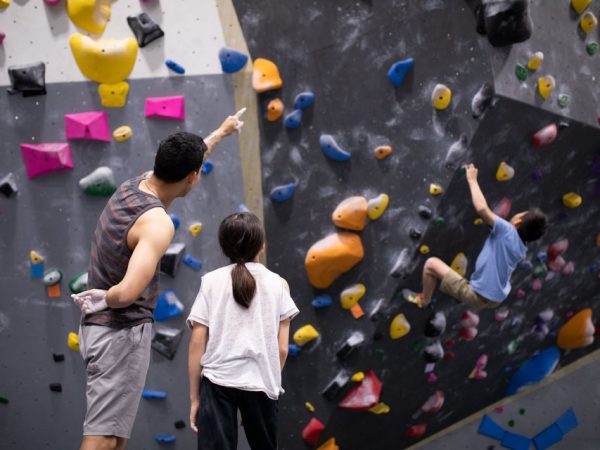 Introduce Your Kids to Indoor Rock Climbing With Method Climb
Ready to give indoor rock climbing a try with your kids? It couldn't be easier to get started. At Method Climb, we have a wide range of programs, teams, and classes to help your kids master the basics and reach new heights (both figuratively and literally!):
Group Classes for Kids (Kids Fun Class) – Group classes are similar to an after-school program, but don't offer the same level of instruction or require a commitment. Because they are limited in space, classes are offered on a first-come, first-served basis. Kids will enjoy climbing with other kids under the supervision of Method staff.
After-School Programs – Help your kids make the most of their after-school hours with one of our climbing programs or teams. These programs require a commitment of 2 months or 8 sessions.

Club Teams – Club teams are available for various age groups and skill levels. These teams give kids an opportunity to develop their skills, climb with other kids, and learn from a Method team member or coach. They are designed for kids who want more instruction than a group class, but aren't ready for a competitive team.
Competitive Teams – Competitive teams are ideal for kids who master the skills in the club team and want a new challenge. Team coaches use a program developed by champion climber Obe Carrion. Teams train for competitive USA Climbing events like Regionals, Divisionals, and Nationals.

Climbing Camps: Half-Day or Full-Day Programs – Offered during summer and winter holidays, half-day and full-day climbing camps give kids an opportunity to meet new friends, develop their climbing skills, and learn from Method staff.
Rent-A-Belayer – Would your child benefit from one-on-one supervision as they climb? Our rent-a-belayer option allows you to hire a Method team member to belay your child on top rope or supervise while he or she is bouldering.
Climbs Without Method Staff – Do you enjoy climbing as a family? Does your teen have the skill to climb without the assistance of an instructor? Then one of the following options may be right for you:

Climbs With Adult Supervision – Children between the ages of 8 and 13 can climb with the supervision of their parents or another responsible adult. Adults may either supervise children from ground level or climb with their kids. Parent and child should alternate so that the parent is always watching their child on the wall.
Climbs Without Adult Supervision – Children 14 years old and older may climb without adult supervision.
Ready to get started on your indoor rock climbing adventure? First-time climbers receive a free Kid's Fun Class (8 years or older) with the purchase of a Day Pass! Follow us on Facebook and Instagram for all of the latest updates!