You're trying to set your kids up for an amazing future. Part of that involves teaching them healthy habits now so they can maintain great health as they grow older. Experts recommend practicing family health activities together so kids gain a legacy of wellness. One fun, kid-friendly way to encourage healthy fitness habits is to get into rock climbing.

Rock Climbing For Kids
In the age of technology, finding ways to motivate kids to be physically active can be challenging. Plus, all kids have their own unique preferences, strengths, and challenges when it comes to what kinds of exercise interests them. Some kids thrive in traditional sports, like soccer, while others hate the competitive aspect or dislike getting a workout by running.
One of the reasons rock climbing is brilliant for kids' fitness is because it feels like a fun adventure, not a forced workout. Kids who love competition can set goals and improve on previous climbs. Those who prefer laid-back exploration can approach climbing walls with an easy-going mindset. The physical elements of rock climbing (like flexibility and strength) are less imposing because they are built into an enjoyable activity.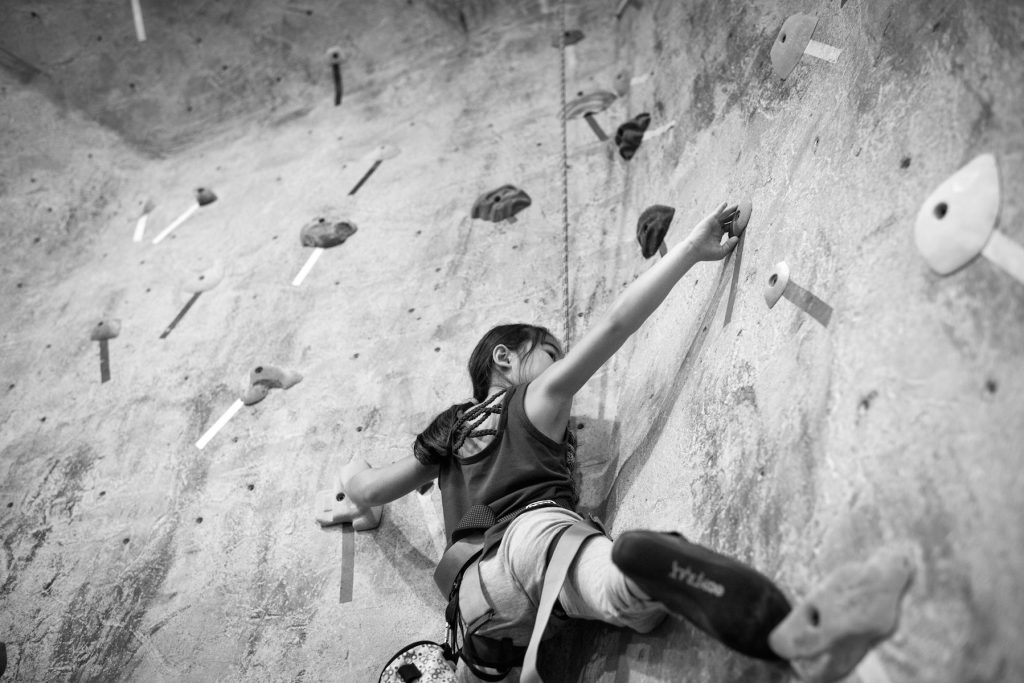 Benefits of Rock Climbing
Rock climbing offers many benefits. Some are physical benefits, but many also involve mental and emotional growth. Kids often also find rock climbing helps them socialize.
For example, some of the benefits of rock climbing include:
Physical Benefits
Aerobic and anaerobic exercise
Builds muscle
Improves endurance
Can increase flexibility
Counts as moderate, sustained activity for the CDC's guidelines for kids' fitness
Mental Benefits
Teaches critical thinking and decision-making skills
Encourages resilience and adaptability
Inspires goal-setting and perseverance
Improves memory if challenges are tackled and improved on repeatedly
Enhances motor skills and functions
Emotional Benefits
Gives confidence and a sense of accomplishment
Teaches humility and coping skills
Helps kids develop emotional endurance
Provides opportunities to conquer/overcome/be brave in a safe environment
Social Benefits
Trains in teamwork (through belaying, coaching, etc.)
Provides opportunities to meet and encourage others
Can be great for family bonding
There are tons of other benefits to rock climbing, like how safe this type of adventure is. Kids get to learn practical outdoor skills, like how to tie secure knots or climb out of tricky spots, with the security of indoor mats, rope systems, and seasoned climbers nearby.
This is also an affordable form of exercise for the whole family! It doesn't cost much to get started or maintain this type of athletic hobby.
How to Get Started
Getting your kids into rock climbing is not a very complicated process. Here are some common questions and answers to help your family begin.
How are kids introduced to climbing?
For young children or beginners, top-roping is a great way to start since possible falls are caught with a rope. Although very safe, top-roping is generally on taller walls. Climbers require a harness; the rope is securely attached to the climber's harness, anchored to the top of the wall, and the slack is taken up by a belayer at the bottom who can 'catch' the climber in the event of a fall. This gives children or beginners a feel for rock climbing without the danger of an actual fall.
To get kids beyond beginner level, we recommend classes, events, or lessons. For instance, at Method Climbing + Fitness, we offer:
Group Classes for Kids
After-School Programs
Club Teams
Competitive Teams
Climbing Camps: Half-Day or Full-Day Programs
Rent-A-Belayer (one on one supervision)
What gear do you need?
Climbing shoes are important, and harnesses are too if you're not bouldering. If you don't own shoes or a harness, you can rent them at many rock climbing gyms, including Method Climb. Chalk, which helps with grip, is usually readily available.
How can kids improve their skills?
As in most activities, practice is important! The great thing about rock climbing is that practice is fun and playful- there aren't intense drills or monotonous skills to gain. Kids practice by climbing, challenging themselves, and trying again.
When kids improve, there are always new challenges to take on, including different climbing paths, harder angles, moving faster, or only touching certain kinds of stones as they climb. Club and competitive teams can also help improve skills and make climbing extra fun.
Do parents participate?
Many programs and clubs at Method Climb don't require parents to participate or be present for rock climbing. We are a youth-friendly community and facility.
For parents who want to participate at some level, we encourage family climbing. Everyone can come climb together! If that's not your thing, come belay (it's easy to learn) so you can cheer your child on and be involved in their climbs.
Family Health Activities at Method Climb
Method Climb is a rock climbing facility, but it's also a complete fitness solution. We offer traditional gym highlights, like cardio equipment, a weightlifting area, classes, yoga, and more. Our gym also has a full cafe and lounge.
Your whole family can come to participate in family health activities- whether you go have guilt-free mom workout time while your kids join a climbing class or you all take turns climbing together. You set up your kids, and your whole family, to develop healthy habits happily at Method.
Come see for yourself! Visit when we open Spring 2020 to explore Method Climb, try something new, and take a step towards enjoying healthy habits together. In the meantime, sign up for our newsletter to receive the latest updates!